(Website meant to be displayed on mobile phones. Text will appear large on desktops.)

--------------------------------------------
Thursday, May 21st, 2020
--------------------------------------------


I had a Zoom performance at Valle Verde today, in their Quail Lodge building, and I am hoping the audio quality was OK enough for the residents. I set up my computer correctly, but when the residents were speaking to me, their voices and video feed appeared choppy. I hope that's not what it seemed like on the other end, because I am trying to make my Zoom performances as enjoyable as possible. I would say my favorite Zoom performance so far was when I brought my keyboard to Villa Riviera and played through my amplifier. The next door neighbors were giving me applause which was encouraging, and the residents seemed to be so happy to listen to me play. Hopefully that can continue.


With Valle Verde today, I had a smaller audience, but it was my usual attendees who enjoy my choice of musical pieces. I was able to play a favorite, Clair de Lune, and also Fur Elise. Liebestraum 3 was included along with the third movement of Beethoven's Pathatique Sonata, and I hope that pleased the seniors enough to want to come back. Prior to the performance I was having technical difficulties with my sustain pedal and it's habit to squeak , but I was able to apply some CLP to fix the problem almost instantly. One thing about these times of the coronavirus, is that I have to maintain my piano myself. Thankfully, CLP works for just about anything and I have enough technical sense to figure out how to apply it in the correct areas to stop the distractions an out of tune piano can have.


I am a little worried about my future with Valle Verde, mostly because of the recent audio difficulties we have been having, but I am still hoping for the best in future Zoom performances.


--------------------------------------------
Saturday, May 16th, 2020
--------------------------------------------

I am having another Zoom performance with Mariposa today, which is to be broadcast to two different televisions in their facility. It should be nice to have a larger audience, but it still does not feel like I am performing in front of an audience. It feels like I am still in my studio playing for myself, while not getting any performance exposure practice. I hope my performing skills do not get too rusty, since one of the advantages of performing at retirement homes is that I got opportunities to lessen my anxiety displaying a difficult skill in front of others. So far I have gotten positive responses from the homes I have played at, but I have not gotten a reoccurring schedule at any other them. I guess that is advantageous for some reasons, because I do not have to feel the pressure of being bound to anything and I have the freedom of saying "no" if I do not want to perform on a certain day. As an adult supporting a family, it is always hard to say no to a paying job, but not having a set schedule takes pressure off and that always makes it a more enjoyable environment to play.

I plan to play my usual repertoire at Mariposa today, because unfortunately I have not been able to practice my most recent pieces, such as the Rachmaninoff Prelude in G minor. One of the advantages of performing at retirement homes three or four days a week was that I was able to review those pieces on the spot and get used to improvising sections that might have had some holes in it. I could justify that I have the time now to do so, but I would prefer to spend my time practicing my Polonaises and recording new music. I think I need to focus on recording public domain music though, because those are free to publish and distribute online through music networks.


Overall, it should be an easy performance at Mariposa today, and I expect it to go through with no technical difficulties.

--------------------------------------------
Saturday, May 9th, 2020
--------------------------------------------


I was able to do a Zoom performance at Mariposa today, and everything went well musically. There were some technical issues on my part, but those got fixed quickly. Half of the retirement homes I used to play at have been acclimating teleconferencing with their entertainers, and Mariposa did a great job doing that with me today.


I played my usual repertoire, since I am not quite finished with my Polonaises. The whole environment change of performing has be concerned though, because the biggest challenge I have in performing is my anxiety playing in front of people, and playing in front of a computer does nothing to work on that. I am waiting patiently for the day that I can go back into retirement homes to play for the residents, but for now Zoom performances work fine.

Since I have not used my piano for a while, some of the keys stick, so I had to buy some lubricant to apply to the pins and inner workings of the key action. Thankfully that worked, and now my piano plays beautifully.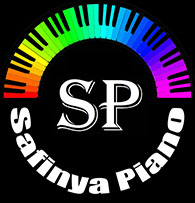 <---Back to Homepage