(Website meant to be displayed on mobile phones. Text will appear large on desktops.)

-------------------------------
Monday, August 24th, 2020
-------------------------------
This weekend I performed for Villa Riviera. I was a little frustrated because my iPad ran out of battery life in the middle of my performance so I was not able to play a couple of pieces that I have not memorized yet. I still was able to play the entire time I was there but I had to cut short my performance of Chopin's Polonaises because I was afraid my iPad would shut off in the middle. I have had better performances at Villa Riviera but I still think I gave the seniors an entertaining amount of music to carry with them the rest of the day.

-------------------------------
Friday, August 21st, 2020
-------------------------------
Yesterday I performed for Valle Verde by teleconferencing from my piano studio at home. I was excited because this was my second opportunity to play Chopin's Polonaise Op. 26 No. 1 for an audience. I feel like I did a good job playing it compared to the first time I performed this piece. Later I got a little excited playing Rachmaninoff's Prelude 5 which led to me skipping a couple of parts. Unfortunately I still omit sections of pieces because of my emotions getting the best of me while playing, but I am sure I would not have that problem as much if I practiced my performance pieces more. These days I spend more time practicing new pieces than refining past ones so it is not surprising I make mistakes while playing for other people.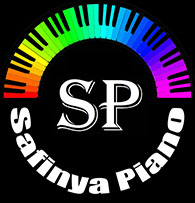 <---Back to Homepage